Welcome to our Interior Design Trends blog, brought to you by Sculpt Design Studio – The Best Interior Designer in Delhi The latest interior design trends for 2023 are everything but passing fashions and trends, with a focus on durable materials, sustainability, and aesthetic items with permanency. The idea of home decor trends in 2023 is to create a flexible, cozy, and inspiring home that can endure the test of time and be at one with your character and style. Of course, trends are constantly changing and evolving to meet people's concrete needs and address their underlying desires. New interior design trends provide us with a peaceful and energizing feeling as 2023 is passing! The original concepts put forth by designers as well as the enduring styles and influences that persistently remain at the core of interior design are both highlighted in our selection of the 2023 interior design trends in India.
Top 10 Interior Design Trends of 2023
1. Statement-Making Furniture
There is an apparent transition from neutral beige tints to richer, deeper, and earthier colors for sofas and armchairs. The furniture piece is highlighted by the interior design trends of using more camel, taupe, cognac, rust, and sage tones, which lifts it from a practical object to a gorgeous, opulent centerpiece. Additionally, richer, deeper colors remain longer than lighter colors and are more pleasing to the eye!
2. Marble- The Timeless Elegance Redefining Interiors
Marble emerged as a dominant interior design trend in 2023, captivating the Indian market and redefining home decor trends. This timeless material has transcended its traditional use in flooring and countertops, now adorning walls, furniture, and even decorative accents. Its elegant and luxurious appeal effortlessly enhances any space, from minimalist to opulent designs. With its versatility, marble complements various color palettes and interior styles, creating a harmonious ambiance. Embraced by homeowners and interior designers alike, marble injects a sense of sophistication and grandeur into Indian homes. From sleek marble accents to entire marble-clad rooms, this trend epitomizes the epitome of refined elegance in the realm of interior design.
3. The Return of Warm Colors
Colors are essential to home decor trends and remain significant to the latest design ideas. Warm colors from past seasons had been replaced with cooler hues like purple. Warm colors are, nevertheless, making a significant comeback in 2023. All shades of red, orange, and tangerine will rule the trends of 2023, although red is the color of the season. This year, earthy tones in interiors are most frequently found in browns and beiges. Beige and warm color palettes have replaced the cold hues this season, even though last year, gray was primarily employed as a neutral color.
4. Prioritize wellness.
One of the top interior design trends in India is wellness. Self-care is one way to boost well-being, but a setting that supports healthy living can also have a significant impact. In fact, wellness design may produce a setting that promotes mindfulness and slowing down. As an outcome, we are able to give our best effort. So, in the upcoming months, we could bet on innovation to create beautiful, healthy spaces.
5. Spaces and furniture for mixed-use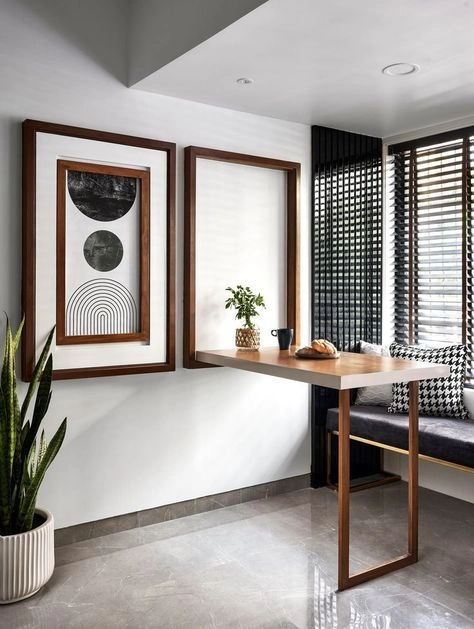 The workplace has changed, whether it is at a residence or in an office. However, these rooms haven't had particularly original designs until recently. There may be amenities in the workplace that contribute to making work more comfortable. To increase use and worker productivity, the workplace gets a cheery makeover that includes adjustments to the design of the furniture, office arrangement, and indoor grass. If you operate from home, you must also furnish the area to suit your unique needs. Increased multi-purpose homes are necessary for increased work-from-home arrangements. More living rooms are being used as offices under interior design trends in India. Even the kitchens of the modest residences will be able to accommodate workplace requirements in 2023. All you need is a foldable or multipurpose surface to get the job done.
6. Emanating Nature Indoors
People are preferring warm tones and organic elements, which suggests that interior design trends are adopting a more environmentally responsible approach. Decor made from actual or imitation natural materials is quite popular since it gives your space a natural and realistic appearance. The newest designs use natural wood everywhere, such as flooring, countertops, accent decor, and cabinetry. This top interior design trend is also addressed by materials that resemble stones like marble, granite, and pebble. Not only among purchasers and designers but additionally as a declaration of their dedication to ecologically friendly design, recyclable and handmade products are rising in popularity. Bringing nature indoors is simple whether you use a bamboo floor or a garden of houseplants. Bringing nature indoors, lush plants and verdant foliage breathe life into spaces, creating a calming and refreshing atmosphere. From vertical gardens to potted plants, greenery adds a vibrant touch, infusing homes with a sense of tranquility and connection to the outdoors. Embraced by eco-conscious homeowners, this trend harmoniously blends nature and design, making greenery an essential element of contemporary interior design trends in India.
7. Arches And Curve
Sharp angles have been gradually vanishing from finishes and architectural details in interior design elements for a while, starting with upholstery. In all design trends, from lighting to sofas, organic curves, and dynamic designs are increasingly highly valued. Curvy lines and rounded corners can give a space a "softer" appearance, making it seem and feel warmer, cozier, and more welcoming.
8. Classical Nouveau Style
mid-century modern style has been replaced by the eclectic contemporary decorating style based on classical nouveau design, that draws inspiration from prior top interior design trends like neoclassicism. The most recent trend in home design combines modern elements with old furniture. Imagine a piece of furniture that is decorative and regal, but incorporates modern home design trends like warm-colored accents and monochromatic color schemes.
9. The Wall Lights are coming to the Fore
To achieve the perfect ambiance, wall lighting must be placed carefully. The fact that wall lights are evolving to become more sculptural, scene-stealing, dramatic, and brilliant is no accident. First, Laura Gonzalez's Bosphore ceramic wall lights were a real standout at Paris Deco Off. Then, companies like Contardi introduced wall lights that resemble sculptures. Just hanging a bit beneath what you might anticipate, wall lights are now celebrities in their own right.
10. The Versatility of Tiles
From intricate patterns to bold geometric designs, tiles are transforming floors, walls, and even ceilings. With a plethora of options, tiling offers limitless possibilities for expressing personal style. Whether it's vibrant mosaic tiles or minimalist monochromatic patterns, this trend adds texture, visual interest, and a touch of artistry to interiors, making tiling a key element in modern home trends.
Conclusion
Both designers and consumers worldwide are welcoming the newest home decor trends. It's impossible to predict exactly what people prefer and post through out 2023 on social media because trends shift so quickly. However, it appears that these ideas will receive some attention before other interior design fads overtake them and replace them.
Best Interior Design Trends: FAQs
Now, let's address some common questions. about the best interior design trends.
1. What are the key factors to consider when choosing an interior design trend?
When selecting an interior design trend .it's important to consider your style. the functionality of the space, and how well the trend aligns with your overall vision. you should also consider the longevity of the trend and whether it will the longevity of the trend and whether it will stand the test of time
2. How can I incorporate multiple interior design trends into one space?
To incorporate multiple interior design trends into a single space, start by identifying common elements or themes among the trends you wish to combine. look for complementary colors, textures, or design principles that can create a cohesive look. Remember to strike a balance and avoid overwhelming the space with too many contrasting elements
3. Are interior design trends limited to residential spaces only?

No, interior design trends are applicable to various spaces, including commercial offices, retail stores, and hospitality establishments. The principles of good design can be applied to any space, regardless of its purpose.
Also Read – THE ROLE OF LIGHTING IN ENHANCING INTERIOR DESIGN IN 2023